The extended range and outstanding durability of the Thick-Wall SPRAY BALL is made possible by its unique 1/4" (6 MM) wall thickness.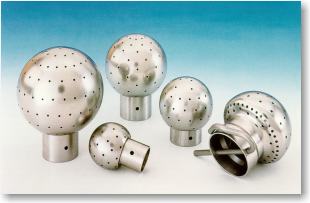 EXTENDED RANGE: Each hole drilled through the thick-wall is virtually a nozzle tube, resulting in the jet streams traveling much farther than normal before breaking up. As a result, it is possible to use either a smaller than average spray ball or wash larger vessels with fewer heads and lower flow rates. The drilling pattern also enables vertical jets to wash the feed pipe and fittings.

DURABILITY: The Thick-Wall SPRAY BALL is virtually unbreakable. With normal usage it will not dent or distort, thereby eliminating the risk of unclean areas due to damage or distortion of the ball.

QUALITY: Made of 316 Stainless Steel, each Thick-Wall SPRAY BALL is workshop-built to exacting standards to ensure years of productive service.



SPECIFICATIONS
Ball diameter
1 1/2", 2", 2 1/2", 3"
Wall Thickness
1/4" nominal (6 MM)
Inlet diameter
to your specifications
Connection thread or pin
to your specifications
Spray patterns
to your specifications
Holes diameter
1/16" or your specifications
Flow rates
up to 100 GPM
Operating pressures
from 15 PSI
Construction material
316 Stainless Steel